Artist: Han Zijian
Critic: Yang Shuqing
Opening: 2020.12.27 / 16:00
Duration: 2020.12.27 - 2021.2.28 / 10:00-18:00 Daily Open
Address: 2F,Building 13,50 Moganshan Rd.,Shanghai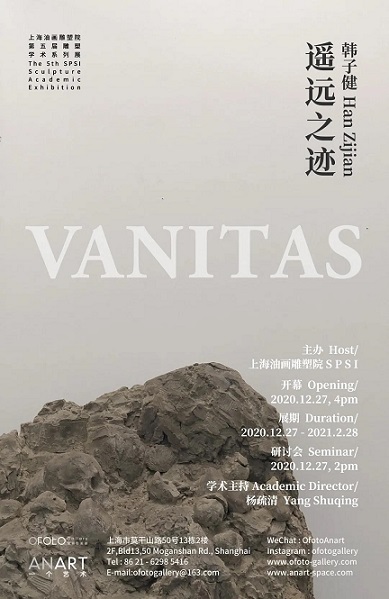 Vanitas: Traces of the Distant——HAN Zijian Solo Exhibition
Yang Shuqing

The remote and distant means more than mere physical expanse or spatial composition of a picture. It implies the transcending tendency of human life. HAN Zijian as an artist has long been preoccupied with Cezanné's art and related theories by philosophers like Merleau-Ponty and Barthes. "Traces of the Distant" is an academic exhibition which witnesses the transformation of Zijian's academic reflections into artworks. Such an approach is similar to the recent "artistic research" in Europe. Zijian highlights the aspect of the distant in Cezanné and combines it with elements of the European vanitas paintings. He puts skulls into his sculptural works and thus opens up a wondrous space between transience and eternalty, vicinity and distance.

In Cezanné's early still life paintings the skulls contrasts with fruits and wine jugs, reminding us of the necessity of death (momento mori in Latin). In "Monument", Zijian juxtaposes the remains of life, the skeletons alongside apples and the mountain. The dark color tunes, the primitive and hard texture of the sculpture with its rough surface accentuate the different traces of time which is crystalized into a monument. In Cezanné's "Pyramids of Skulls", human skulls are stacked together like apples, whose hollow eye sockets capture our vision. In front of the work, there is no escape from the atmosphere of death. Cezanné had been wrestling with a question all his life, i.e., the depth and voluminosity of things. Zijian's skeletons reflects this question. The indented sockets points to the distant abyss, and yet refuse to be penetrated by the rational perspective. The tensional relation between distance and nearness can also be observed in "Things far away", with those small objects dimishing and leaving behind traces of self-withdrawal.
"The Bather", the largest work of the exhibition, is Zijian's reinterpretation of Cezanné's equivalent. The bather is emerging from the distance, his head tilting in a pensive gesture with closed eyes. The footsteps are like a string of beads of ancient time which open up the deep and distant space of wasteland around the bather.