Artist: Zhang Jijun
Critic: Gu Chengfeng
Opening: 2019.12.21 16:00-18:00
Duration: 2019.12.21-2020.02.14/ 10:00 - 18:00 everyday
Address: ANART. 2F, Building 13, 50 Moganshan Rd., Shanghai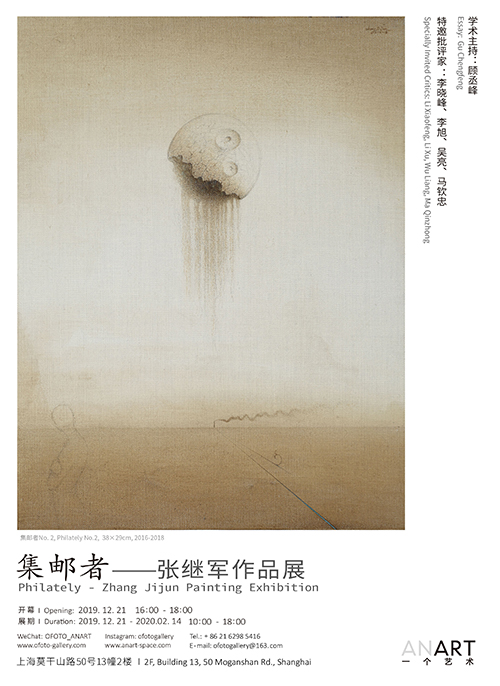 FLICKERING
Essay:Gu Chengfeng
I don't know why does the word "flickering" suddenly shoot my mind? When gazing at Zhang Jijun's recent oil paintings, I am overwhelmed by this feeling.
"Flickering" is the name of the an oil painting he painted more than ten years ago. At that time, he created a psychedelic state: there are not only toy soldiers in battle fields, kites looming in the sky, straight roads leading to the trapping horizon, but also cold and heavy red walls standing right in your face. The clouds in the sky, warm and ambiguous while people on the ground, vague and weird.
This is what I wrote for him at that time. It seems still valid today. Although he has been trying to paint on paper, the atmosphere always lingers between obscurity and subtlety, and the modeling elements are basically similar. It seems that the painter's emotions have been stable in a corresponding self setting——he belongs to the type of artist who is seldom affected by external circumstances, though he is fully aware of the changes in the art world. Creating in the illusion of self construction, his lines have become straighter, though broken sometimes, and his buildings still erect like monument. The mist is still all over the place and people look blurred just leave a vague outline......
By naming this exhibition "Philatelist", he seems to have been collecting pieces of personal feelings for many years and finally putting them together into artworks. They are flickering and gentle, around the trees, refusing to leave, with endless echoes. The social factors are giving ways to the self release. Could our thoughts fly with the pair of imagined wings weaved by the painter?