Artist: Hao Yun
Critic: Yu Huijian
Opening: 2018.05.26/16:00
Duration: 2018.05.26-07.06
Address: ANART 2F, Building 13, 50 Moganshan Rd., Shanghai, China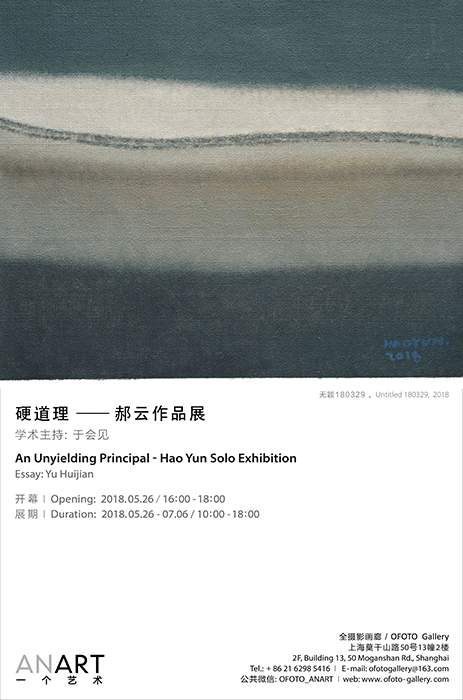 Painting is an Unyielding Principal
Essay: Yu Huijian
Several years ago Hao Yun invited me to his studio located in a residential area which he rented with a few friends. There were a lot of oil paintings and paintings with mix media on paper They were lively but somehow lack of personal touch. When asked for advice I replied:"Three thousand copies make one exercise. Finish one thousand as a start." From then on I have been very concerned about his works. A few days ago he telephoned me to write an inscription for his exhibition as he has recently finished one thousand paintings. I should of course take this honor since I set the target in the first place.

In terms of painting, Hao Yun has gradually formed his own language through exploring during these years, specially in abstract painting. I would say it's dangerous to choose abstract art as a way of expressing, because it requests stronger purity in emotions and forms. Using the minimal painting language to express the emotions and the spiritual world is undoubtedly a great challenge to him. However, we can clearly feel the unique subtlety in Oriental aesthetics. The gentle, implicit and calm dots and lines and mild colors grab our attention and quickly immerse us into his world.
From abstract painting to minimalism, Western abstract art reached its peak. As a result, Eastern and Western artists nowadays hardly explore abstract art. It requires stronger wiliness and self-confidence. A purer art form a severer test of the artist's ability. Through Hao Yun's exploration in recent years, we can discover his ideal and belief in painting. He tastes the relations between dots, lines and colors in different hues, and talks with the universe, human being and nature in the virtuality and reality. The rhythm of the lines is flowing freely. A color, a line, even a dot conveys his own life experience. We appreciate Hao Yun's world through his paintings. He is enjoying the real pleasure of painting, as well as sadness, anger and other mixed tastes. Hao Yun's painting style is his conscious choice, and the Oriental touch in the works is his true feeling. China's art including literature, painting, drama, reserves a vast treasure trove of abstraction, that is as big as other countries. Abstract art in China has inexhaustible nutrition for study and exploration. Now Hao yun is walking on the way of abstract art. We have high expectation on him.
Written at Henan Art Museum
July 2017