Artist: Sun Hongbin
Critic: Chen Haiyan
Opening: 2018.03.31 / 16:00
Duration: 2018.03.31-05.11
Address: ANART 2F, Building 13, 50 Moganshan Rd., Shanghai, China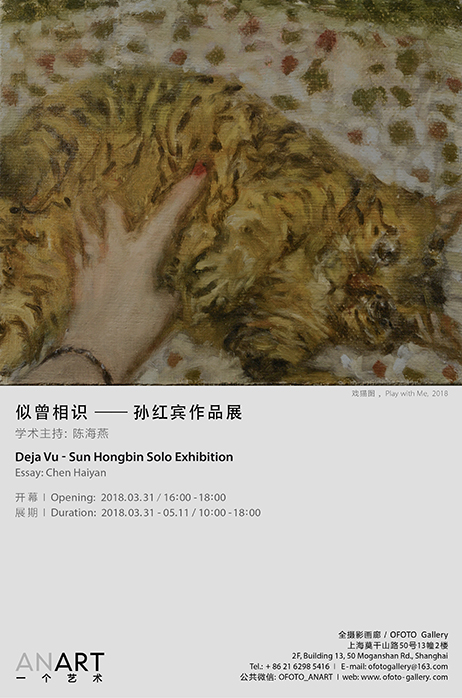 Inscription: "There is transition between empirical and transcendent world, where there flows milk and honey, or it's just some uncertain secretion."
---- Black Ink
Deja Vu
Essay: Chen Haiyan
Watching Sun Hongbin's oil paintings makes me feel familiar. In other words, they are not so strange in my art reading and experience. As if it self-proves that either the subject or the technique does not matter that much as we imagine. This perspective may not go along with those artists who are in a good era of art. Art experience starts to go to personal experience and its language also for its own listener. This not only transforms shelter from catastrophe to positive consolation, but also guards its land from so-called "reliable" stronghold. Even though the artist spends his whole life on drawing one dog or a cat, we can still see loads of secrets and its craziness. In addition, the painting itself is a mirror, reflecting not only the artist's spiritual world, but also the viewer's.
This familiar "déjà vu" is not exactly the result of hard work. Sometimes it is by chance or naturally occurs in the mind of the artist. It is the collusion of the artist's life, experience, education, thought and concept, which is also a gift given by the random brush. In fact, Sun Hongbin is good at both photography and painting (I had chance to take a glimpse at his works, some of them are very different). I can tell that he has paid so much effort on creation and been richly paid back. Now he is enjoying the satisfaction of oil painting more than ever. Among these works in the exhibition, I, somehow, feel his introversion, the persistence, the alienation from others, as well as the hidden secret of something obscure under the surface.
These works are very small and loose, nothing about boast or ambition. They are more like sketches, spontaneous, fragmental, no orientation and somehow disguised. The paintings are slovenly, blurred and unorganized. The colors are sometimes bright and sometimes dim. The paintings seem swaying back and forth with only self-consciousness, self-entertainment and self-comfort. That is all what the artist wants to present. I must admit that the disguise in art is also an indispensable part of art, a hope of non-disguise. The philosopher, Theodor Wiesengrund Adorno said that only those minds that cannot be understood are real. These words seem tranquil but stormy, like, in some way, Sun's works. He wants to minimize the meaning, the scale, the understanding and emotions. Undoubtedly, art is more alive and full of power of manifestation outside of language, words and ration.
Dream comes after awareness and brings about self-satisfaction. The same goes to life, as well as art and painting in particular. Because sincerity in painting has a self-consciousness in the whole process, from content to style, then from style to content, continually running just as the river. Sun's recent works look ridiculous and messy. When his mind is active his painting is expressive, while he is in a low mode, his painting comes to an abrupt stop, leaving the viewers at loss. However, we can only understand the artist's intention and mindset after stripping off the floating finish on top of the painting. These apparent "messy" and clumsy works, doodled by Sun Hongbin, reveal reality and at the same time hide the truth, in order to unveil the absolute essence of the works. The colors and forms are no more than the existence of the mind. They are "senses" and "taste". The object is a real and 3D structure, but it is portrayed as the mark of senses and time. Whether the world exists in our own independent senses, or the independent existence is not subject to the senses, is nothing but our foolish rational entanglement, which is totally meaningless. The purpose of painting is not to reproduce the objective reality, but to blend in the life energy of the ego, so as to make the viewer feel rather than understand. Expressing the unspeakable between what can and cannot be said. The result does not matter anymore. Just like me, who is now used to less and less straightforward. My heart seems to have turbid gas rather than epidemic pathogen and my stomach has flatulence rather than wilderness. However, I never surrender to understanding and agreement. In this case, Sun Hongbin and I indeed belong to the same age and era.
In the end, we must note that Sun Hongbin used to work as a university teacher. He then stayed in Beijing as an artist. Now he has moved to Shanghai with his family. His low-key home environment betrayed his modesty, but his unpredictable radar never misses any sign of our desire when looking around his territory. However, I want to say slyly, that the will to eliminate desire, is still a kind of desire, deja vu.
Write in Shanghai
2018/3/15
(Translate by Claire)