Artist: Su Jiaxi
Critic: Chen Haiyan
Opening: 2017.12.02/16:00-18:00
Duration: 2017.12.02-2018.01.19/10:00-18:00
Address: ANART 2F, Building 13, 50 Moganshan Rd., Shanghai, China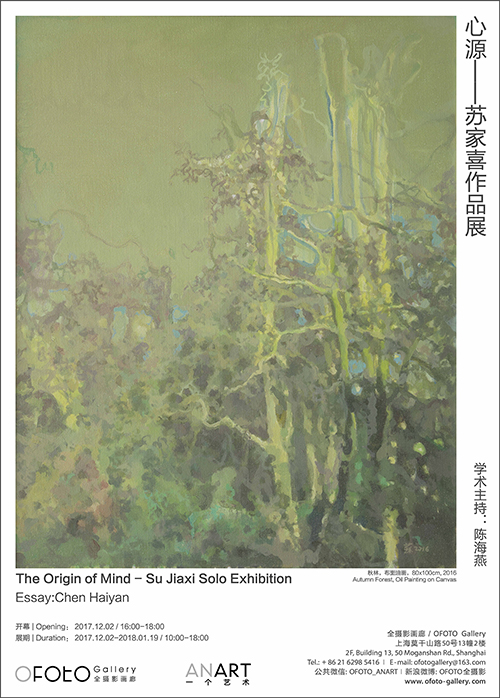 Foreword
"If I can ever speak out with my own words I would never choose to draw."
—— Edward Hopper
The Origin of Mind
Essay: Chen Haiyan
Looking at Su Jiaxi's works an unspeakable feeling congers up in my mind just because such works are from "the origin of his mind".
Before this essay, I happened to try a few paintings to express myself. I shut myself at home and started the painting; however, I found it not enough and had to write along with the paintings. I must admit my envy towards those who can paint freely what they want to "say". It's an ability to speak out your true feeling. Unlike the artists, I am more used to letters and words (when I'm lazy or forced to use them). They are more direct but combined with a lot of shortcomings, such as misleading, wrong punctuation, misunderstanding, language barrier...... In this case, visual art to some extent solves the dilemma of literature (the poem is not in this situation). Being tolerant, diverse, visual art, therefore, could create more possibilities. Maybe that is also the reason why Su Jiaxi is addicted to painting.
No matter how the authoritative theorists simplify, induce and crudely define art in various categories, over two-thousand-year Western art history, passing through savage and civilization, merely relates first to "painting the God", then in the awakening period "painting the human", then in the great navigation "painting the world". Along with the creation of photography and the development of image technology, artists started to discuss "how to paint" and "whether to paint". Though the blooming era of painting has passed, and people have repeatedly declared "painting is dead", nowadays we still see paintings on the wall, unrestrained, proud and firm as newborn grass in the Spring! They are no longer imitation of the reality, but a way of expressing oneself. In reality, art is one form of life and also one way of self-entertainment. Moreover, on the way of escaping from fundamental life to a metaphysics world, it is the protection air constantly around the body against human's ego, desire, emptiness, and loneliness…. I prefer to call this "kill time" (which explains better than in Chinese). The process of painting is like an emotional illiterate person, deaf and dumb, who cannot hear, talk or write, but paint, using painting as a cup of liquor to remove the indignation accumulated in the heart. Those colors on the painting pile up his indescribable personal thoughts, feelings, and strength which we would call "divine light".
It has been two years since I visited Su Jiaxi's studio in Kunming. During these two years, he participated in a group show "Water" in OFOTO gallery. Lack of the disturbance of the young people, he is sedate, calm and concentrated, very much on his own world. No matter when he moved to Beijing or eventually settled down in Yunnan running the most artistic noodle pub with his wife, he never forgets painting. Occasionally when he chats with friends at the tea place, his preferred topic is still art. As a reflective person, he likes to make things with his own hands. The small frames in the exhibition are all shaped and sanded bit by bit by himself. This hobby comes probably from his family root or it is another way of"kill time"which helps him off his work. In that brief meeting, the most impressive is the perfectly repaired tea cup with his self-taught traditional ceramic mending method. I was trembled by the broken beauty. In the end, he claimed a bit feverishly:"Next time if anything is broken, send it to me. I will mend it for you!" Just for this, I learned some of his temperament.
These variously sized exhibits are his recent works, they have also showcased his artistic concept which gradually dissolves forms, obscures the reality and excludes the realistic symbols and aesthetic taste. They create, in this finite world, a very personal infinite experience and expression. It seems egotistical, expressive, atonal and even chaotic. But based on the pure handcraft, it bears the imprint of the artist's life and warmth. It has no specific direction or subject, even no design factor (contemporary art sometimes is a variety of design). It is not arrogant or bossy, not showing off of techniques, nor artistic hegemony which forces you to understand and accept, or flatter. On the contrary, these works contain a complex of anxiety and uncertainty, a repetition of challenge and compromise between ideal and reality, a loneliness after a lavish banquet, a quietness after a storm and the hidden waves under a peaceful surface. It is also the mode, experience and feeling that cannot be expressed presently by language or words when we are trying to make peace with the world and ourselves. It is a so-called dilemma in an awkward journey of existentialism, like what Su Jiaxi said: "For my understanding, painting is a way of consistently understanding and recognizing myself". In this world where everything is being standardized, formularization excites revulsion. When the over developed left brain and the cool and cruel ration over interprets or over criticizes art into a stereotyped writing, though might be very enigmatic, I am afraid such heavy cap will crack down the already weak neck of the traditional painting. Art is born to be oneself or special. It encourages both the painter and viewer to be as "naive", "adventurous" and "playful" as a child. "Step straightforward!", in Henry David Thoreau's words.
Painting is like contemplating the mind and watching the action. It is obviously more precious to acquire spiritual experience than to get the result. Majored in oil painting, Su Jiaxi, over the years, has been trying to get rid of the academic training, finding a personal language combining techniques and spirit and seeking what Sikong Tu, a Chinese poet, said: "Forms out of forms, scenes out of scenes", from image to imagery and then to spirit. He strives to make the process of contemplating the objects into watching, imaging, feeling, expressing and appreciating. Just like his name, Su Jiaxi ("Su" is the family name, "Jia" means family, "Xi" means happiness) stands for the happiness of Su family or the family happiness of Su, peaceful and warm, tangible and dependable. I respect everyone's view towards the works. Like it or not has various reasons such as visual experience, self-reflection or common experience etc. I only want to say that Su Jiaxi has stepped on his own path, calm and peaceful, listening to himself and expressing his origin of mind.
Shanghai
2017 Autumn