Artist: Cao Yingbin, Song Haidong
Critic: -
Opening: 2016.11.05 / 16:00 - 18:00
Duration: 2016.11.05 -2017.01.06 / 10:00 - 18:00
Address: ANART. 2F, Building 13, M50, Shanghai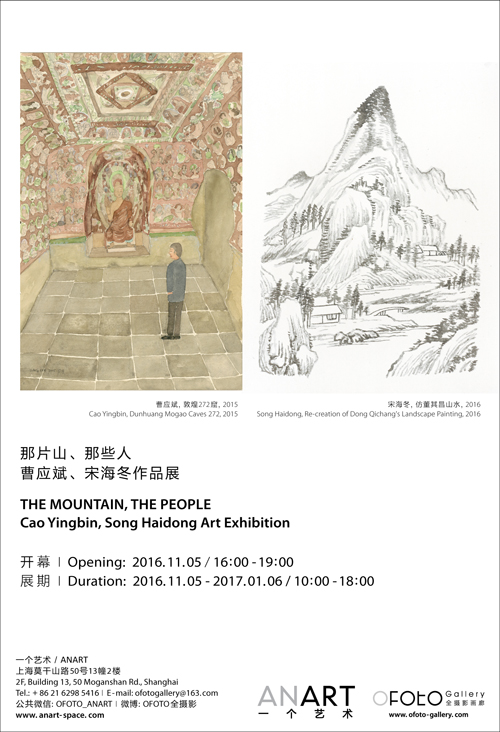 Mountains and People on My Mind
On Dual Exhibition of Cao Yingbing and Song Haidong
Yingbing and I really got to know each other when I was curating the annual exhibition for our department two years ago. For that exhibition, he generously provided his watercolor paintings of the landscape of the Songshan Mountains with people dotted about. He opted for neither traditional ink and wash nor copying the works of antiquity.
His methods might be new, but to me, his style somehow deviates from what's fashionable in today's art world. I had been mulling over what distinquishes his works from others for a long time until it dawned on me that his works reveal the spiritual side of the Chinese intellectuals.
His paintings seem to bring to viewers the gentle breeze among the Songshan Mountians, soft and warm, maybe with playful twirls.
Three intriguing factors contribute to his style. Firstly, watercolor resembles ink and wash in that they both use a soft brush and mild colors to create dreamlike atmosphere.
Secondly, the painter captures the moments when he gets touched by what he sees in the mountains. (Yingbing once told me that ever since his Songshan-Mountain series, most of his paintings have been drafted on his journeys through natural landscape.)
Thirdly, the Songshan Mountains he paints are holy mountains for the Chinese. Since the Han Dynasty, the Songshan Mountains witnessed many "Fengshan" ceremonies at which emperors offered sacrifices to heaven and earth. I have visited those mountains a couple of times and I was impressed by the awe-inspiring majesty. I assume that the painter rendered the beauty of the view with reverence.
Alas, what a delight it is to appreciate the paintings with a clear mind and a great perspective! What a lovely opportunity it is to see Yingbing's latest works, thanks to the wonderful job of Mr Luo and his colleagues! I'm thrilled!
I still remember visiting the Yuyuan Garden with my father and brother in my middle school years when my father was just released from his duties in cowshed. All the rockeries and water, all the pavilions and towers, all the blooming flowers and chirping birds, and all the red fish chasing each other: that was when the natural scenery mesmerized me.
Reflecting on the past reminds me of the confusions I have about myself and reading often helps clear things up. Antique paintings, calligraphy, and bamboo scripts unveil the life of ancient intellectuals.
What seasonal conventions did they observe? What was the precursor of the literati paintings? How did the tradition of the "transmission by copying" come into being? How did they put the poetic elements into paintings? Why did they religiously pursue the art of painting? It is not easy to get simple answers for such questions because we are after all centuries away from their life-art continuum.
To satisfy one's curiosity, a contemporary scholar has plenty of available material for studies unimaginable for his ancient counterparts. Ancient paintings and calligraphy could be appreciated in museums, auction previews, and antique markets. Ancient artifacts and books could be analyzed and copied and a great number of them have been unearthed since 1949. What's more, recent researches on literature have clarified the meanings of ancient texts and shed new light on studies on subjects such as mountain worshipping ceremonies, the Taoist spiritual practices of Neidan, and mysterious seal scripts in the Tang and Song Dynasties.
Besides, appreciating the nature is also our homework to do.
With incense burning, painting and reading offers sweet pleasure and profound experience to both the hand and the heart. There might be obstacles on the road but hope makes all the bitterness worthwhile.
I'm writing this to share with the visitors some thoughts and anecdotes about this dual exhibition. Thank you all for coming.
I'm more than grateful to Mr. Huang Yunhe and Mr. Luo Yongjin of OFOTO Gallery for their support and help and to Ms. Wang Xiaoqi for her great work. Thanks very much.
Fall, 2016
Song Haidong in Shanghai