Artist: Sylvie Denet
Critic: Alain Jullien
Opening: 2016.07.09 / 16:00 - 18:00
Duration: 2016.07.09 - 08.26 / 10:00 - 18:00
Address: ANART. 2F, Building 13, M50, Shanghai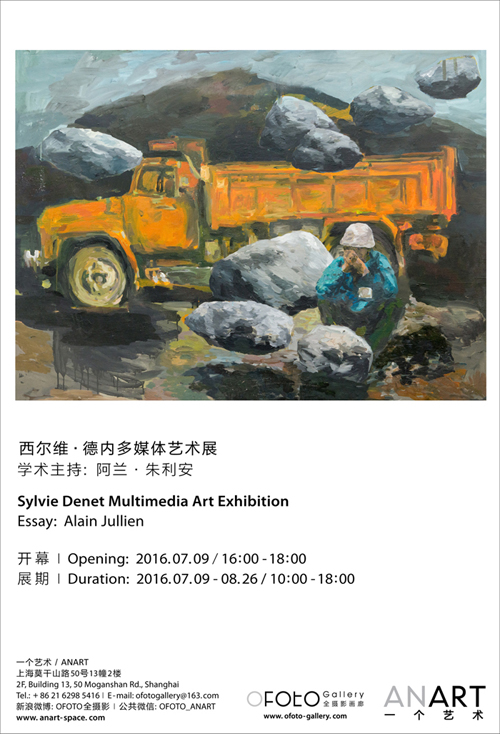 works (click here)
Preface
by Alain Jullien
Translation is complicated, and one reason for this difficulty is that one does not think the same way in French or in Chinese. But art is a way to transcend these barriers, or differences. With Sylvie this is important even necessary. For two residencies, one in Guangzhou in 2005 and one in Tianshui in 2016 she came for two weeks each time and immersed herself in this foreign language, country and culture. Unable to talk she manages to communicate enough to eat, sleep and work. Walking everywhere, she has time to look, feel and hear what is going around her. She spends a lot of time capturing, recording the daily life, shapes and even smells that traces and feeds her memory. But after this work on site, she goes home, to her family, to her studio, to the quiet needed for the tremendous labor ahead : the translation. From photographs she will produce paintings, from video she will extract movement and sounds, from her heart and art she will produce little animated pieces that we can watch with admiration but above all with surprise and pleasure time and again. It is a rare treasure to be able to discover, experience, feel, in other words see different levels of comprehension each new time we watch the work she has fabricated, manufactured, in the most complete sense of the word. Manufactured, in the English language means fabricated by hand, for Sylvie there is no complete word, since she fabricates by eye, heart, hand and mind, so it is not surprising if no translation is needed, the comprehension of her art is much easier, if we take the time to look, watch and listen, or hear.