Artist: Chen Yun
Critic: Zhang Qing
Opening: 2013.09.21 / 16:00 - 18:00
Duration: 2013.09.21 - 2013.09.13 / 10:00 - 18:00
Address: ANART. 2F, Building 13, M50, Shanghai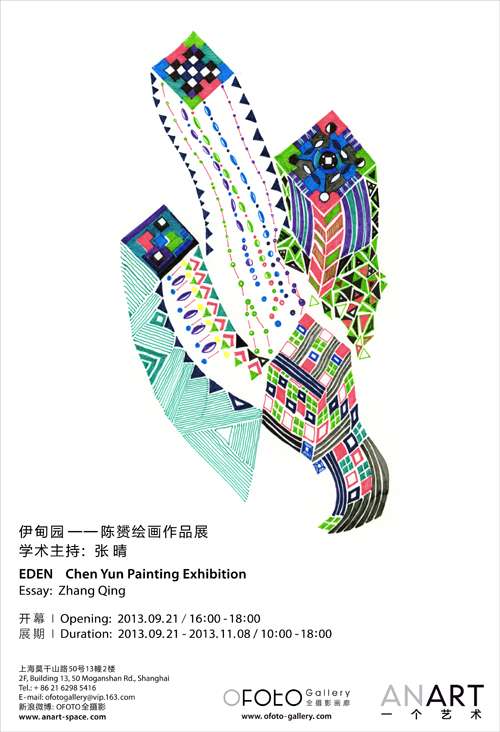 works here

"Hami Melon Style" Eden
Zhang Qing

Chen Yun, I prefer to call her Ha Mi Gua (hami melon) or "Ha Mie Gu Ha" and other strange names. She is a representative artist of "Infantization". She has unusual artistic sensibility and fantastic expressiveness. She is characterized by the sense of the miracles upon the crashes between the world and the heart through her keen eyes. She is able to grasp the instant fantasy and absurdity tightly, leaving the fragrant traces on the paper by her "Hamieguha" style.

The theme of this exhibition is "Eden". In her latest works, I seem to detact some phantomlike flowers flourishing in the garden at the bottom of her heart. The flowers look irrational, but exactly fit her unique and real condition at this moment. When she turns different experiences into images like flying flowers, a sense of "Ha style" anxiety flows out of the seemingly relaxation. This time her new attempt is to create kaleidoscope-like geometric images. Can it be that she starts to use geometrical abstraction to symbolize another Eden in her heart?

From this exhibition we can clearly see that her life and works are faced with a transition. I don't know how to evaluate her art situation after the transition. But from what I know of Ha Mie Gu Ha, her art always hurriedly escapes from the upcoming flameout "Eden" towards a new exciting "Eden" with her pen and paper in hand.

Sep.12, 2013 Ersha Island, Guangzhou
Translation: Fan Chen
翻 译:范 晨