Artist: Zhu Cunwei
Critic: Fan Lin
Opening: 2013. 05. 25 / 16:00 - 18:00
Duration: 2013.05. 25 - 2013. 07.19 / 10:00 - 18:00
Address: ANART. 2F, Building 13, M50, Shanghai.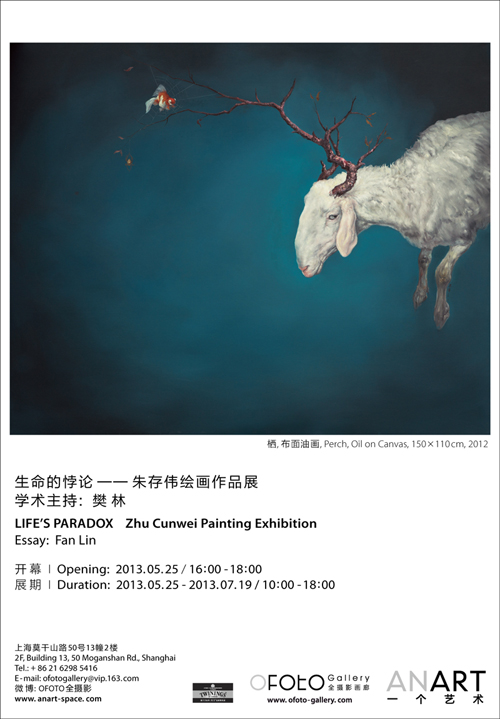 works here

Life's Paradox
Fan Lin
However, they appear with obvious absurdity that the branches and leaves growing through the paintings are absurdly linked with the still and staring animals. Such manipulation doesn't seem too far-fetched, due to the realistic technique and brushwork; instead, they seem to acquire the sense of joy and sorrow like human, brewing the words intently and sensitively but only conveyed through gentle and honest eyes.
Plant, animal, object and space, once in the painting, are meant to be paradoxical. The painter is obsessed with the techniques and submits to an obvious paradox. Then, we wonder why the artist subtly paints these paradoxical scenes? Does the painter just want to give us a moment full of imaginations?
In the picture, the animal body has unique beauty and those weather-beaten branches are full of dignity. They constitute a small provocation against the reality. In such silent confrontation, all the shyness, weakness, silence and tenderness becomes virtue. By the kind animal's eyes of firm trust, the reality in the painting undoubtedly deviates from the modern emotions, knowledge classifications and visual experiences. The animals which used to run and wander freely are confined to the artificial space, but still natural, warm and round.
Perhaps the artist searches for the possibility in realistic expression, but focuses on telling new experiences in life, identity and emotion and conveys the intrinsic power by sets of absurd combinations.

Translation: Fan Chen
翻 译:范 晨