Artist: Han Dong
Critic: Chen Haiyan
Opening: 16:00 - 18:00 / 15. 09. 2012
Duration: 10:00 - 18:00 / 15. 09. 2012 – 16. 11. 2012
Address: ANART. 2F, Building 13, M50, Shanghai.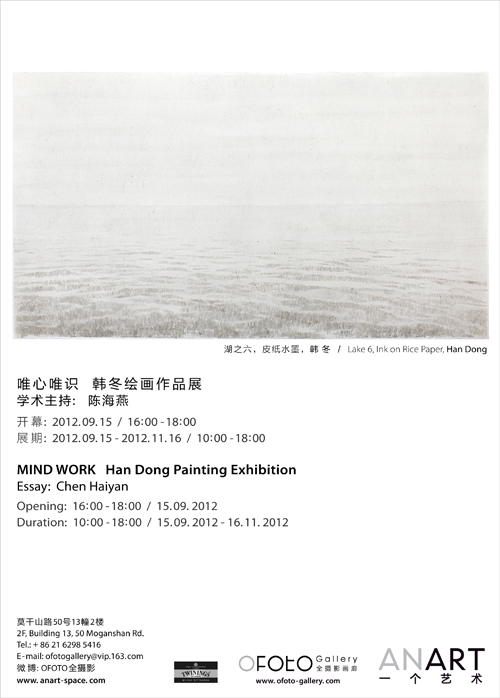 works here

MIND Work
Chen Haiyan
Han Dong keeps precept and Zen meditation. He has a refined temperament of ancient scholar as he moved to an old south China yard in Dongguanmen, Yangzhou, living, reading and painting. The orange osmanthus, plantain and orchid make the yard a tranquil and charming seclusion in the city. A religious person is upright, flexible and principled. It all originates from Buddhist theories that "Sadness is born in wisdom". In my opinion, Han Dong is a merciful and intellectual religious person without worldly desires.
Han Dong's work is filled with Zen sublimity for reflection and visualization, which shall be appreciated not only by eyes but also by heart like making a cup of light scented Biluochun tea, smell, taste, clarify thoughts quietly and taste the after sweet slowly; then comprehend. This is Zen, Zen in life.
Yan Yu, the critic in the Song dynasty, says:"Zen mainly lies in sudden understanding." So does painting in artist's inner experience. The Zen in Han Dong's painting is boundless lake, the empty, silent, dustless and carefree worlds in all directions. The lake is still and misty with form and formless. That is still a meditation. It is a turnback to a level of seeing, seeing the essence instead of appearance, naïve and at ease. How beautiful it is!
Although majoring in traditional Chinese painting, Han Dong has been calmly simplifying his creation skills and narrative abilities of western painting for years, restraining the expressing desire, indulging in the underplayed non-directional scenery, and painting layer by layer the ink washes on the slightly yellow rice paper. Rough and mottled texture and Cun constitute misty and week tone that fades away from the worldliness. The breeze ripples the lake with glistening light. The algae shadow is reflected through sunlight. The withering sentiment born in gloomy night still lingers between realism and idealism.
This series of Han Dong is different from the form of traditional Chinese ink painting. The compositions, perspectives and realistic imaging still present a classic photo realism, which somehow reminds me of Hiroshi Sugimoto's "Seascapes" photographs. Of course, the two are essentially different but still makes me feel the similar sympathy among different art expressions - Zen. If it can be defined, I would like to include Han Dong's "Lake" series which is a combination of Chinese and western painting expressions, into literati painting. It's not only because Han Dong is a literati who paints with four elements of literati painting: character, knowledge, talent and thought, but also because Chen Hengque said when explaining literati painting: "not consider the artistic skill in the painting; but must detect the literati sentiments outside of the painting."
Return to the nature and learn from the nature. From deliberate to free, no matter the return of subject or technique, it needs comprehension, intelligence and more over the extreme intimacy—no love, which is a kind of Buddhist progress. As Lao Tzu says: "Empty yourself of everything. Maintain a steady serenity." Lead a leisure and natural life. Feel at ease and accept whatever comes. Only the mind matters.
I cherish the memory of a lakeside and a moment of comprehension, which already touch my heartstrings. The misty water waves in chaotic and primeval times is natural revelation of heart, neither happy nor sad; neither angry nor moha (stupid). Such a void and tranquil beauty can be sensed but not expressed by words like the meditation in Zen. In a word: "Go for tea!"