Artist: Cao Yingbin, Chen Yun, Guo Peng, Han Dong, Li Dongyuan, Li Jie, Pan Tao, Sylvie Denet, Wang Yabin, Wang Zhongjie, Xu Zhe, Zhang Jijun
Critic: Chen Haiyan
Opening: 16:00 – 19:00 / 24.03.2012
Duration: 10:00 – 18:00 / 24.03.2012 – 11.05.2012
Address: ANART. 2F, Building 13, M50, Shanghai.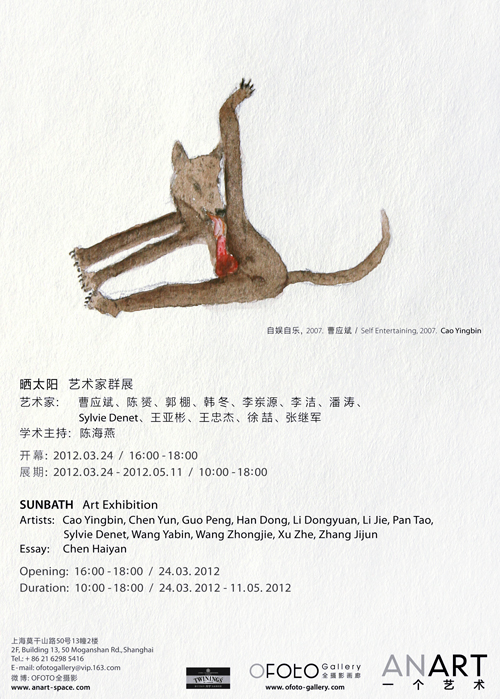 Cao Yingbin, Chen Yun,Guo Peng,Han Dong, Li Dongyuan, Li Jie, Pan Tao, Sylvie Denet, Wang Yabin, Wang Zhongjie, Xu Zhe, Zhang Jijun
SUNBATH
Chen Haiyan
In the midspring, birds fly, grasses grow, daytime becomes longer and sun shines. As old people say, the spring thunder predicts ample rain this year. The damp and foggy south does not always mean winding lanes in the rain and lines of poems. A bad mood makes a musty soul.

Someone says: "The darker, the brighter!" The painful pauses and broken sentences make the fungus hairy. Wandering long in dark space and time, we need sunshine. In the words of God, the Old Testament: "Let there be light!" Then the light comes along.

Absurd but warm drama can be fabricated under no circumstances. It is right time that we take sunbath together.

It's said that the Palace Museum with rich collection predicts the best time to pull the dormant treasures out of the storage into the sun. Even the large scaled Tang-ga of Tibetan temples would be carried to the sunshine in a specific time of the year. That is the Shoton Festival for the Buddhists to present themselves before the Buddha or the Buddha wants to bask a while?
Of cause, the seeds stored in ANART shall also come out for sunshine. They need to germinate and decide to blossom. These ordinary but great artists like the inhabitants in the old lanes move desks and chairs with the step of the sunlight, talk incessantly or keep silent idly. Just a ray of spring sunshine is enough.

If you like, join us in the sun. The fungus will fade into a birthmark of transcendental meditation, which overexposed by sunlight, might disappear in a dazzling sun ray. Visible or invisible. That's enough.
Translation: Fan Chen
翻 译:范 晨